Did you know that the world generates 2.01 billion tons of municipal solid waste annually? Out of this at least 33 percent is handled in environmentally unsafe ways. Also, worldwide, waste generated per person per day averages 0.74 kilograms but ranges widely, from 0.11 to 4.54 kilograms. Though they only account for 16 percent of the world's population, high-income countries generate about 34 percent, or 683 million tonnes, of the world's waste.
It all covers the plastic bottles, paper cups, tissue papers the packaging material you use every day. Disposing of this waste using various techniques releases tons of carbon dioxide into the atmosphere.
If every individual takes some initiative and brings a change into the lifestyle by adopting the zero waste approach, this waste can be reduced drastically.
How can we adopt a zero-waste lifestyle
Let us look at some simple but very effective ways by which we can easily adopt a zero-waste lifestyle.
1. Replace the plastic bags with reusable cloth bags:
Plastic is a non-decomposable material and remains in the ecosystem for a very long time leading to plastic pollution. We know about the Great Pacific Garbage Patch and the harmful effects it had caused on the marine ecosystem.
Many countries have banned the use of plastic bags and some of them switched to disposable plastic. But if the number becomes too high and the waste is not segregated appropriately, these bags do not end up in the recycling centers.
The best way to cater to this problem is to start using reusable cloth bags. Whenever you go shopping, always carry your cloth shopping bag. Using cloth bags has also become a style statement and you will find a variety of cloth bags in the market or you can also create your bag from old clothes.
2. Buy in Bulk:
When you buy the products in small quantities, the number of times the same product is used increases and also increases the amount of packaging material used for those many items. Instead make a habit of buying such products in bulk, especially your staples, cleaning agents, soaps and shampoos, lotions, etc. It will not only reduce your trips to the supermarket but also reduce the packaging material waste.
3. Carry your container:
Many supermarkets are now promoting the concept of carrying your container. Instead of buying the packaged products, you can directly store the item in your container and reduce the waste totally.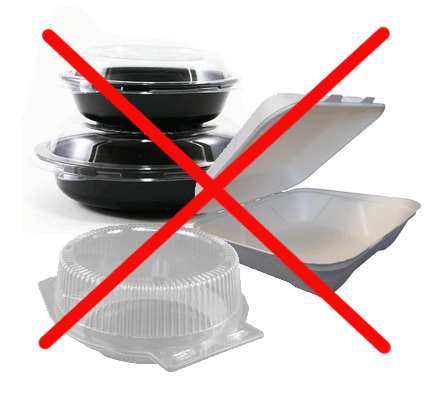 4. Stop using disposable products:
Disposable plastic cups, towels and napkins compose a major part of the waste generated. Switching to reusable options like cloth napkins, carrying your mugs for your coffee, etc. will definitely reduce the waste.
5. Stop using plastic containers:
Did you know that plastic container can make your food toxic especially if it is made from low-grade plastic. Plastic is not only harmful to the environment but also to our health. So stop using plastic containers and switch to better options like glass, steel, etc.
6. Reuse your leftover food:
The leftover food that is been thrown into the dustbins also forms a major part of the waste. The best way to waste the food by throwing it in the dustbin is to reuse it in some other recipes the next day. Also while dining out, try to take smaller portions and reorder if needed, instead of wasting leaving the leftovers behind.
7. Make your compost:
The kitchen organic waste can be easily used to make your compost at home. Colonies and societies need to set up a common compositing pit where people can dispose of the kitchen waste for composting.
8. Go digital:
In this digital era where everything is available online, try to avoid taking newspapers or unnecessary print copies when everything is available on your devices. Though paper is biodegradable, it takes time to degrade and in the meantime fill up the waste piles. Also as the paper is made from wood, trees are cut off for the raw material. Lesser demand will lead to less cutting of trees and hence reduce the carbon from the atmosphere.
9. Switch to the old-fashioned nappies:
Disposable diapers are the third-largest single consumer item in landfills and represent about 4% of solid waste. Disposable diapers generate 60 times more solid waste and use 20 times more raw materials, like crude oil and wood pulp.
People are more inclined to the using diapers as they don't have to wash them to reuse. But the disposable diapers contain traces of Dioxin, an extremely toxic by-product of the paper-bleaching process which causes rashes to the baby skin.
So instead of using such products for the babies try switching to the traditional cloth nappies and use a reusable plastic pants on top of it at least when at home.
10. Buy Fresh food instead of Canned:
Fresh food has more nutritional value than canned ones and tastes much better. So always buy fresh fruits from vegetables from the local markets instead of the canned ones. This will not only eliminate the waste but also provide better nutrition to your body.
These changes may look to you very small and not significant to the global cause at this moment. But small steps taken now by every individual will create a huge difference in the future for our planet. Eating fresh food and home-cooked food rather than packaged and canned ones will help you lead a healthy lifestyle.
Staying away from plastic bags and containers will not only eliminate plastic waste but also keep our bodies away from microplastics and toxins.
Start making these small changes towards the zero-waste lifestyle and you will be amazed at the results and help keep our planet clean too.
Subscribe
Subscribe to our newsletter
Follow us on twitter @DecodingBiosph1